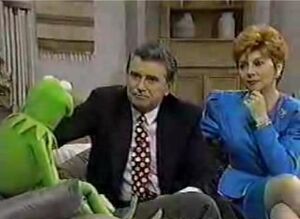 Regis Philbin (1931-2020) was the long time co-host of Live with Regis and Kelly (with both Kathie Lee Gifford and Kelly Ripa as co-hosts), of which the Muppets are frequent guests. He left the show in the fall of 2011.
Regis Philbin made a cameo, with Kathie Lee Gifford, in Stars and Street Forever and was actually in favor of Ronald Grump turning Sesame Street into a Grump tower.
Philbin was also the host of Who Wants to Be a Millionaire, which had Kermit the Frog as a guest.
External links