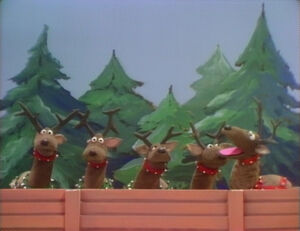 The Reindeer are five of Santa's famous sleigh-pullers, featured in a repeated TV Christmas skit. The group consisted of boss Dasher (aka Charlie), Dancer, Donder, Prancer, and Blitzen. The reindeer made various bad puns, broke into random carols, and attempted to make it snow with a "snow dance".
First appearing noseless with Rowlf like bodies on the Christmas installment of Perry Como's Kraft Music Hall on December 20, 1965, the reindeer re-appeared on The Ed Sullivan Show on Dec. 22, 1968, this time without live-hands but with rodded hooves instead and also with shiny black noses. The reindeer were built by Don Sahlin, and their voices were performed by Jim Henson (Dasher, Donner), Frank Oz (Prancer), Jerry Juhl (Blitzen), and Bob Payne (Dancer).
The Ed Sullivan Show version was included on the Muppets Magic from the Ed Sullivan Show DVD.
Other reindeer
Characters as Reindeer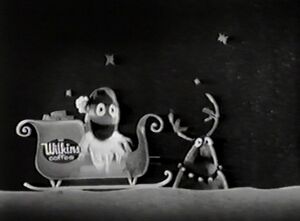 External links