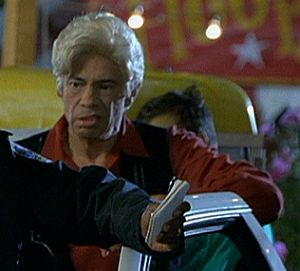 Reni Santoni (b. 1939) is a character actor who supplied the voice of Rat #1 in Dr. Dolittle. He also had a brief, silent cameo as the circus owner.
Santoni has been a familiar face in films and TV, usually as Italians or Hispanics. He co-starred in Dirty Harry as Clint Eastwood's partner Chico Gonzales. He was one of the few actors appearing in new footage in Steve Martin's film noir spoof Dead Men Don't Wear Plaid, as the Mexican police chief. Other film credits include Guns of the Magnificent Seven, Bewster's Millions (with John Candy and Richard Pryor), Private Parts, and 28 Days.
Santoni has been more active on the small screen, with regular or recurring roles on such crime shows as Manimal (as Lt. Nick Rivera), Hill Street Blues, Midnight Caller (as Father DiMaggio), and Murder One (as a judge), plus guest spots on Murder, She Wrote, CSI, Miami Vice, Quantum Leap, and The Odd Couple. He's probably most familiar from his multiple appearances on Seinfeld as Poppy, the Italian restaurateur who opposed abortion and forgot to wash his hands.
External links
Community content is available under
CC-BY-SA
unless otherwise noted.