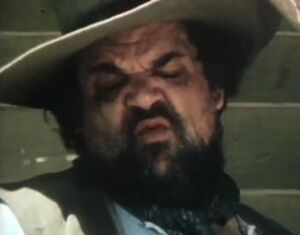 Ricardo Palacios (1940-2015) was a Spanish actor who appeared frequently in Spaghetti Westerns, as well as in the films of director Jess Franco. He appeared on the German Sesame Street co-production Sesamstrasse in a series of five filmed inserts, shot in Spain in 1980. Called "Verkehrswestern" (Traffic Western), the segments featured Palacios as the sheriff of Western City, who foiled the Dollar Gang in every installment by insisting they abide by traffic safety. His dialogue was dubbed into German, although the segments made heavy use of physical humor and Spaghetti Western-style shots of Palacios' pensive face listening to a watch in every segment.
Palacios began appearing in Westerns in the 1960s, beginning with Sergio Leone's For a Few Dollars More (1965, with Werner Abrolat and Kurt Zips) and returning for The Good, the Bad and the Ugly (1966), playing bartenders in both. He was often cast as Mexican bandits or soldiers and played Pancho Villa in Los 7 de Pancho Villa/The Vengeance of Pancho Villa (1967). Working in co-productions with Italy, Germany, and sometimes the United States, Palacios appeared in The Magnificent Seven sequel Return of the Seven (as a jailer), Dynamite Joe, Leone's Once Upon a Time in the West (with Henry Fonda, as a train engineer), Day of Anger (another bartender), Bad Man's River (with James Mason), Captain Apache (with Tony Vogel), The Spikes Gang (with Ron Howard), and the 1998 TV movie Dollar of the Dead (once again as a bartender).
Outside of Westerns, Palacios played a Russian general in a 1971 version of Black Beauty and was a regular in the films of Spanish director Jess Franco, beginning with Cartes sur Table (Attack of the Robots, 1966) and including The Blood of Fu Manchu and Alone Against Terror (1986, as mad scientist Dr. Orgaf). Other horror credits included two of Paul Naschy's werewolf movies and playing the sheriff in Monster Dog (1984, with Alice Cooper). He directed the 1987 comedy ¡Biba la banda as well as episodes of the 1997 TV spinoff La banda de Pérez .
External links
Community content is available under
CC-BY-SA
unless otherwise noted.