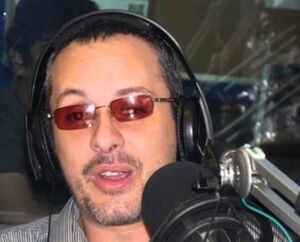 Ricardo Tejedo is a Mexican voice actor who dubbed Pepe in Los Muppets en el Espacio (Muppets from Space), Los Muppets y el Mago de Oz (The Muppets Wizard of Oz) and Studio DC: Almost Live - Edición Extendida (both Studio DC: Almost Live specials). Tejedo has been the primary Spanish voice of Johnny Depp since 2000, including the translation of his appearance with Kermit the Frog for the black carpet premiere of Pirates of the Caribbean: On Stranger Tides.
Tejedo often alternates between dubbing leading men types and character voices. He is the main Spanish voice of Brad Pitt, Ben Stiller (including Night at the Museum: Battle of the Smithsonian), and Andy Serkis as Gollum in The Lord of the Rings and Hobbit movies, and Clark Gregg in the Marvel movies and Agents of S.H.I.E.L.D. He dubbed Jude Law in the Sherlock Holmes movies and others, Michael Fassbender in the recent X-Men movies, Aaron Eckhart in The Dark Knight and London Has Fallen, Alan Cumming in the Spy Kids movies and Son of the Mask, Eric Bana in Hulk and Star Trek, Matt Dillon in Old Dogs, Ewen Bremmer in Around the World in 80 Days, and James Marsden in Superman Returns. For TV, he dubbed Matthew Fox on Lost, Eric Dane on Grey's Anatomy, and James Denton on Desperate Housewives, as well as Goldar on Mighty Morphin Power Rangers.
Animation roles include Baby Huey, Lord Business in The Lego Movie, Alex in the Madagascar movies, Rick Jones on The Incredible Hulk, Antoine on Sonic the Hedgehog, Molt in A Bug's Life, and Mysterio, Electro and other villains on Spider-Man. Video games include the Gears of War series (Dominic Santiago), Batman: Arkham Origins (Scarecrow), njustice: Gods Among Us (Black Adam), and Epic Mickey 2.
Community content is available under
CC-BY-SA
unless otherwise noted.