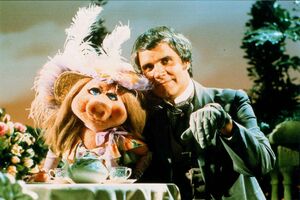 Rich Little (b. 1938) is a Canadian comedian, best known for his celebrity impressions, who guest starred on The Muppet Show episode 204. During the course of the episode, in addition to impersonating the voices of the Muppets, Little did imitations from his repertoire, including Groucho Marx, Richard Nixon, James Stewart, Humphrey Bogart, Maurice Chevalier, Frank Sinatra, Liberace, John Wayne, Burt Lancaster, Gene Kelly, and Bing Crosby, among others. Little has also impersonated Kermit as part of his stage act.
Little began his career in clubs and as a disc jockey in Canada, perfecting his vocal impressions. He made his US TV debut on The Judy Garland Show (1964) and would subsequently appear on most of the major variety and comedy shows of the day, including regular stints on The Julie Andrews Hour (1972), The ABC Comedy Hour (aka The Kopykats, alongside other impressionists like Fred Travalena), and his own The Rich Little Show (1976). Little produced and starred in several TV specials and videos which served as one-man showcases, including a version of A Christmas Carol (playing W. C. Fields as Scrooge) and Robin Hood (with Groucho in the title role).
In animation and live-action film looping, Little was heard in two Pink Panther shorts (as the title character) and would reloop David Niven and Inspector Jacques Clouseau (played by Peter Sellers, stand-ins, and even Roger Moore) in The Trail of the Pink Panther and Curse of the Pink Panther. He dubbed the French animated Lucky Luke feature Daisy Town (supplying all speaking voices as various impressions), voiced an animatronic Nixon in Bebe's Kids, and looped several roles in the 1985 movie Better Off Dead (including a Japanese character who speaks like Howard Cosell and a TV clip of Barney Rubble).
Little currently resides in Las Vegas, and continues to perform.
External links
Community content is available under
CC-BY-SA
unless otherwise noted.