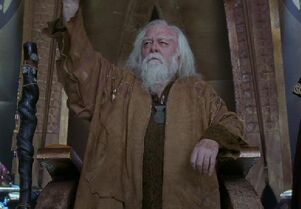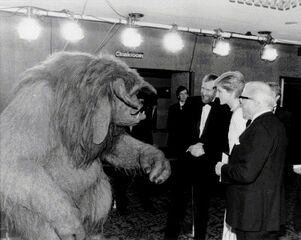 Richard Attenborough (1923-2014) was an actor and Academy Award-winning director, who played Magog in the Jim Henson Company TV movie Jack and the Beanstalk: The Real Story (2001). Years earlier, at the London premiere of Labyrinth, Attenborough was in attendance and encountered Jim Henson and Ludo.
Attenborough began his long film career in the 1940s, starting with bits and then a starring role in Brighton Rock as the brutal gangster Pinkie. In the 1950s, he starred in such light Boulting Brothers comedies as Brothers in Law, Private's Progress, and I'm All Right, Jack, usually paired with the likes of Ian Carmichael and Terry-Thomas. During the same period, he starred on-stage in Agatha Christie's The Mousetrap, originating the role of Sergeant Trotter.
In the 1960s, Attenborough appeared in such glossy productions as The Great Escape (as mastermind Big X), The Sand Pebbles (receiving a Golden Globe nomination as sailor French), and Dr. Dolittle (as a gregarious circus owner, netting a second Golden Globe nomination). Shifting to directing in 1969, Attenborough helmed such films as Young Winston, A Bridge Too Far, Gandhi (winning an Oscar for Best Director), and Chaplin. He returned to screen acting in the 1990s, after a decade's absence, playing prehistoric theme park entrepreneur John Hammond in Jurassic Park and its sequel, Kris Kringle in Miracle on 34th Street, and a cameo as part of the all-star cast in Kenneth Branagh's Hamlet.
External links
Community content is available under
CC-BY-SA
unless otherwise noted.