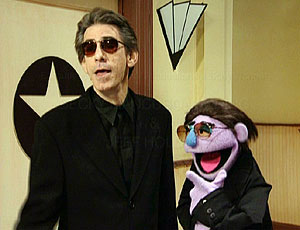 Richard Belzer (b. 1944) is an American actor and comedian best known for his role as Detective John Munch in the television series Homicide: Life on the Street and in the Law & Order franchise. In total, the character of Munch has appeared on 10 television series.[1]
His role was alluded to when Belzer made a cameo appearance in the special Elmopalooza. In fact, when he arrives backstage to rescue Jon Stewart from his locked dressing room, Big Bird mistakes him for a police officer. He's not able to break the door down, so he calls in his stuntman, Sparky.
In the late 1970s, Belzer appeared in a short Sesame Street film insert with Brian Doyle-Murray involving two men in a boat (EKA: Episode 1083), released on Old School: Volume 2.
Belzer was later caricatured (along with his Law & Order: Special Victims Unit costars) in Law & Order: Special Letters Unit in Sesame Street Season 37.
In Season 38, Belzer appeared to present "lazy" as the Word of the Day.
Sources
↑ "Belzer Character Munch Makes TV History," Contactmusic.com. June 8, 2007.
External links
Community content is available under
CC-BY-SA
unless otherwise noted.