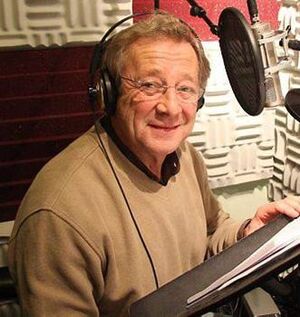 Richard Darbois (b. 1951) is a Montreal-born French voice actor who dubbed Earl Sinclair on Dinosaures (Dinosaurs) and the Ghost of Christmas Present in Noël chez les Muppets (The Muppet Christmas Carol). He also dubbed Professor Brody in the Creature Shop-effects film Cats & Dogs.
Darbois acted on camera in the 1970s, including several sex-themed comedies, but has worked most often in voice-over (including as the official voice of radio station NRJ since 1993). He is the primary French voice of several leading actors, such as Harrison Ford (including Indiana Jones and the Last Crusade and Star Wars VII: The Force Awakens), Danny Glover, Jeff Goldblum, Sylvester Stallone, Dan Aykroyd, and Arnold Schwarzenegger (in Conan the Barbarian and others).
Darbois is especially active as a character voice in animation and video games, dubbing Batman on Batman: The Animated Series and related projects, the Genie in Aladdin and sequels, Darkseid on Superfriends, Oogie Boogie in The Nightmare Before Christmas, Baby Herman in Who Framed Roger Rabbit?, Rasputin in Anastasia, Buzz Lightyear in the Toy Story movies, and Russ Cargill in The Simpsons Movie. For video games, he dubbed Count Nefarius in Toonstruck and reprised his Disney roles (and added new ones) in the Kingdom Hearts series.
External links