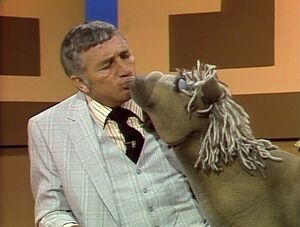 Richard Dawson (1932-2012) was an actor and an Emmy Award-winning game show host for his work as the original host of Family Feud (1976-1985). Prior to that, he was best known for playing Corporal Newkirk on the WWII sitcom Hogan's Heroes (1965-1971).
Dawson appeared on Sesame Street in season 13 as the host of "Family Food," a Sesame spoof of his popular show.
In the 1970s, Dawson once appeared alongside Oscar the Grouch on Dinah Shore's talk show. On that show, guests stayed on the couch after their interviews were over. During the interview between Dinah and Oscar, the grouchy one heckled Dawson by asking "How are things on Hogan's Heroes?" Dawson responded with a long anecdote, which consumed the rest of Oscar's interview time.[1]
Dawson's other game show work included appearances as a regular panelist on Match Game, as well as hosting the short-lived Masquerade Party and appearances on I've Got a Secret. He was a regular on Laugh-In (1971-1973) and guest starred on The Alfred Hitchcock Hour, The Dick Van Dyke Show, The Jack Benny Program, The Outer Limits, The Love Boat, and The Odd Couple (as himself). His few film credits included a small part in The Longest Day and, in 1987, a meaty self-parodic performance in The Running Man (with Arnold Schwarzenegger) as devious game show host Damon Killian.
Sources
↑ Caroll Spinney, The Wisdom of Big Bird, p. 71.
External links
Community content is available under
CC-BY-SA
unless otherwise noted.