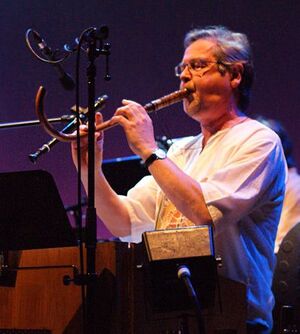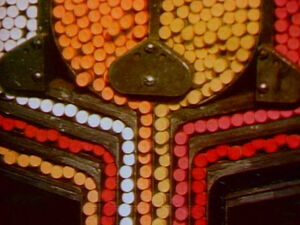 Richard Harvey (b. 1953) is a musician and composer. Two pieces from Harvey's 1980 album Nifty Digits were borrowed for a Sesame Street film of a crayon factory (First: Episode 1579) . The beginning of "Water Course (a)" (described on the album as a "flowing pastorale") provided the piping melody which opens the film (and the tail end of the track is used for the closing), while most of "Exchange" (described on the album as an "innovative portrait of commerce and industry") accompanies the factory footage.
Harvey was a featured soloist for The Dark Crystal, heard playing pipes during the Pod dance scene, and received screen credit. He also composed additional music for The Witches (uncredited, assisting composer Stanley Myers, with whom he'd scored Lady Chatterley's Lover in 1981). He went on to score the Creature Shop-effects films Animal Farm and Arabian Nights.
Harvey graduated from the Royal College of Music in 1972, specializing in playing Renaissance-era instruments (such as the recorder and the crumhorn). With Brian Gulland, he formed the progressive rock band Gryphon (using similar instruments), which released multiple albums between 1973 and 1977. By 1978, he was releasing several albums of his own, often of an experimental nature (like Nifty Digits), and an album of recorder concertos (including Vivaldi). Around the same time, he began composing for film and television, including electronic music for the TV miniseries The Martian Chronicles (scheduled for 1979 but airing delayed for a year), the anthology series Tales of the Unexpected (1981-1988), the puppet series Terrahawks (1983), and the 1995 series Jake's Progress (composed with Elvis Costello).
Film scores include House of the Long Shadows (1983, with Vincent Price), Half Moon Street (1986, with Michael Caine), Hostage (1992, with Sam Neill), Deadly Advice (1994, with Jane Horrocks), Luther (with Peter Ustinov), and the French animated film The Little Prince (2015). He also conducted The Da Vinci Code (2006) and continues to play occasionally on soundtracks (often the flute or pipes) including The Lion King, Harry Potter and the Prisoner of Azkaban, Kingdom of Heaven, and The Chronicles of Narnia: Prince Caspian. He has also led various orchestra performances.
External links