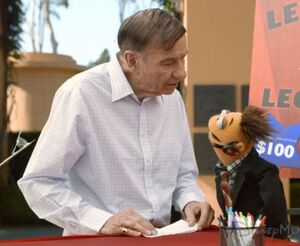 Richard M. Sherman (b. 1928) is an Academy Award-winning songwriter who, with his brother Robert B. Sherman, formed the songwriting team the Sherman Brothers and composed many popular songs, including many for Disney films, records, theme parks, and other media.
He made a cameo appearance in an installment of the web series Disney Drive-On with The Muppets, meeting Walter.
The Sherman Brothers' best known song is probably "It's a Small World" (performed in The Muppet Show episode 317). They composed all of the songs and the score for Mary Poppins (winning an Oscar for "Chim Chim Cheree" and for original score), while Richard M. Sherman voiced a few animated characters (including a penguin and a member of the Pearly Band).
The Shermans' other well-known Disney compositions include songs from Winnie the Pooh, The Jungle Book and The Aristocats. Outside of Disney, they wrote songs for the films Chitty Chitty Bang Bang (including "Hushabye Mountain"), Snoopy, Come Home, and the hit single "Tall Paul" (sung by Annette Funicello), among many others. In 2009, both brothers were the featured subjects of the documentary The Boys: The Sherman Brothers' Story.
External links