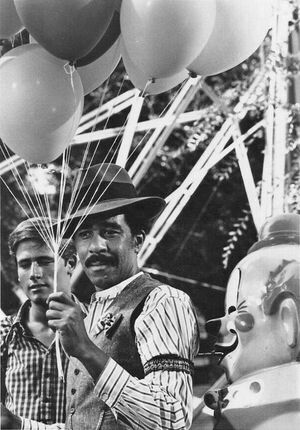 Richard Pryor (1940-2005) was a groundbreaking and versatile comedian, actor, and social commentator.
Pryor recorded several inserts for Sesame Street in the 1970s, most of which were by himself on a limbo set. Two of the segments paired him with The Kids, although notably, he made no appearances with any of the Sesame Street Muppets.
As one of several cameos in The Muppet Movie, Pryor appears on the film's poster illustrated by Drew Struzan. He plays a balloon salesman at the Bogen County Fair who convinces Gonzo to buy a whole bunch of them for Camilla the Chicken because the girls go "gaga" for them. This event kicks off a sequence in which the balloons carry Gonzo into the air, instigating a chase by Fozzie's Studebaker culminating in an attack from Doc Hopper.
After his Muppet Movie cameo, Pryor was to have been a guest during the fifth season of The Muppet Show. According to show writer Chris Langham, interviewed for the 2002 BBC I Love Muppets documentary, "I didn't become a guest for any other reason than that Richard Pryor blew himself up freebasing." On June 9th, 1980, Pryor incurred in an accident at his home that left his body badly burned.[1] The Muppet Show episode 519 began taping less than eight weeks later on August 5th. The comedian later joked about the incident in his 1982 stand-up special, Richard Pryor: Live on the Sunset Strip.
Pryor's professional work includes over twenty comedy albums and several TV specials showcasing his stand-up act. In film, he appeared in four movies with Gene Wilder, and co-wrote the Mel Brooks film Blazing Saddles which was to have featured he and Wilder, but Pryor's role ultimatley went to Cleavon Little. His other acting credits include Lady Sings the Blues (with Diana Ross), Hit! (with Billy Dee Williams), Uptown Saturday Night (with Harry Belafonte), Car Wash (written by Joel Schumacher), Greased Lightning (with Bill Cobbs), The Wiz (with Lena Horne), In God We Tru$t (with Marty Feldman), Wholly Moses! (with Dudley Moore), The Toy (with Jackie Gleason), Superman III (with Christopher Reeve), Brewster's Millions (with John Candy), and Lost Highway (with Patricia Arquette). He also hosted Saturday Night Live in its first season, wrote comedy for Flip Wilson and Lily Tomlin, and developed the children's series Pryor's Place, which — with its mix of human cast and puppets set on an inner-city street — shared comparisons with Sesame Street.
Sesame Street appearances
| Picture | Appearance | Description |
| --- | --- | --- |
| | Episode 0779 | Richard Pryor plays all the parts in a scenario of two kids meeting a new kid who wants to play. |
| | Episode 0779 | Richard Pryor recites the alphabet. |
| | Episode 0779 | Richard Pryor uses his hat to participate in playing cars with kids. |
| | Episode 0794 | Accompanied by a drum beat, Richard Pryor asks the viewer to point to parts of their head. |
| | Episode 1141 | Richard Pryor sits on a park bench with a basket of strawberries; a kid wants him to share them. |
| | Episode 1149 | Richard Pryor demonstrates emotions. |
References
Sources
External links