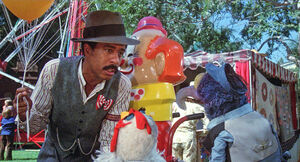 Richard Pryor (1940-2005) was a groundbreaking and versatile comedian, actor and social commentator.
Pryor recorded several inserts for Sesame Street in the 1970s, including playing cars with kids (First: Episode 0779), reciting the alphabet (EKA: Episode 0862), talking about parts of the body (EKA: Episode 0989), demonstrating emotions (with narration by Luis) (YouTube), and sharing a basket of strawberries with a boy. (EKA: Episode 1141)
In 1979, Pryor made a cameo appearance in The Muppet Movie as a balloon salesman.
References
External links