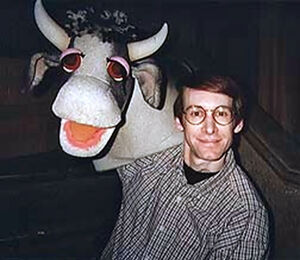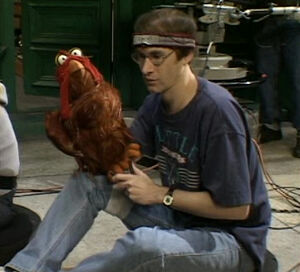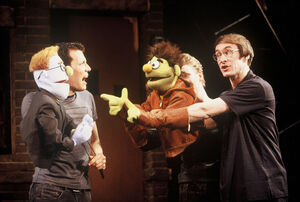 Rick Lyon (b. February 25) is a puppeteer and actor from Rochester, New York, who began working on Sesame Street in Season 20 and has performed in many projects for The Jim Henson Company.
He originated the roles of Nicky, Trekkie Monster, and Blue Bad Idea Bear in Avenue Q, a Broadway play for which he designed and created the puppets. In fall 2005, he reprised his roles in the production of the show in Las Vegas. He also worked with Nickelodeon on the Stick Stickly project. He was the chief puppeteer for the first season of Comedy Central's television program Crank Yankers.
When Bobby Lopez and Jeff Marx presented highlights from their unproduced musical Kermit, Prince of Denmark to the BMI Workshop, they asked Rick Lyon to perform the songs for Kermit...
"

All of a sudden, Kermit the Frog was twenty feet away from you. It was like having Frank Sinatra in the room. Even though Rick was right there with the puppet sitting on his lap, all anyone could watch was Kermit. Most people never get that experience unless you go backstage at Sesame Street and see the puppeteers do it live in front of you.

"




—Bobby Lopez
"

Rick was absolutely brilliant. When he put the puppet on his arm and brought it to life, you completely believed that Kermit was alive. Everyone was just captivated. We had never seen anything like it. He made our song better than it was. He took it to a level that was beyond what we had dreamed of. And we said, "We've got to work with this guy again. Because this is a magical combination."

"


—Jeff Marx[1]
Lyon studied theater at Penn State University and puppetry at the Institute of Professional Puppetry Arts in Connecticut and the Institut Internationale de la Marionnette in France.
"

The very first Muppet I ever had on my hand was Grover. I guess they liked what they saw and I was asked to send in an audition. I thought, what's the worst they can say? No? So I did and I was hired. It was an extraordinary time. I had always aspired to work with Jim [Henson] but I never expected I would. His work was what I had tried to imitate and now I was working side by side with him, assisting him. It's like, if you're a cosmologist and you have the chance to work with [Stephen Hawking]. What Jim Henson did for puppetry was a quantum leap for the art form. He created puppets for TV. It was so groundbreaking. He was very much a man of [his] time and his timing was impeccable. And, not only was Jim an incredible artist, but an incredible person."

"


—Rick Lyon[2]
Henson Credits
External links
Sources
↑

Avenue Q: The Book, p. 11
Community content is available under
CC-BY-SA
unless otherwise noted.