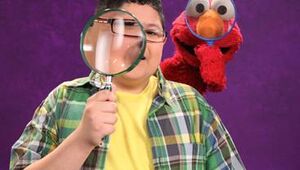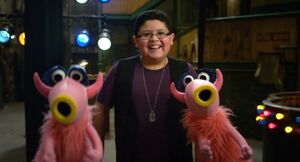 Rico Rodriguez (b. 1998) is a child actor best known for his role as Manny Delgado on the ABC sitcom Modern Family.
Rodriguez appears in 42nd season of Sesame Street and has a cameo as himself in The Muppets. He tweeted about the latter experience: "My childhood is coming alive right now. I'm filming with the Muppets for their new movie! It's pretty epic!" Ironically, in his appearance in the film, he doesn't recognize Kermit, and ends up mistaking him for "one of the Teenage Mutant Ninja Turtles."
Among Rodriguez's other credits are appearances on My Name Is Earl, ER, and the Disney Channel series Good Luck Charlie (as Leo).
Notes
When Rodriguez made a February 07, 2020 appearance on the Nickelodeon hidden camera show The Substitute, clips were included of him holding an Elmo toy and with his sister at The Muppets World Premiere. In the episode, Rodriguez plays a gym teacher and refers to a basketball with a face as "Mr. Hooper."
External links