Written by
Richard Wagner
Date
1870
Source
Die Walküre (opera)
Publisher
public domain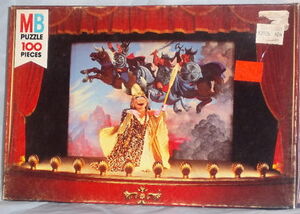 "Ride of the Valkyries" is a song by Richard Wagner from his opera Die Walküre. Although it was originally written with lyrics, the song has been used as an instrumental in popular culture, and is often associated with Brünnhilde, and her stereotypical opera costume.
Musical references
Another instrumental version is used for a film segment in Happy Healthy Monsters showing athletes performing a number of feats.
Visual references
A 1980 Milton Bradley puzzle depicts Miss Piggy performing as a Valkyrie spoofing a scene from the opera.
Another one from the line shows her in the same costume, backstage.
Community content is available under
CC-BY-SA
unless otherwise noted.