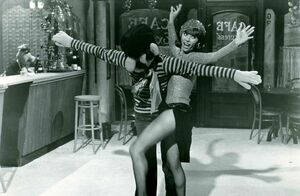 Rita Moreno (b. Rosita Dolores Alverío, 1931) is an actress arguably known for her roles of aggressive, strong-tempered Latin women who guest starred on The Muppet Show episode 105. On the December 10, 2015 episode of PBS Newshour, she called performing "Fever" with Animal in that episode "one of the funniest things [she's] ever done." She also hosted The Muppets Go Hollywood in 1979.
In 1977, she became the ninth performer to win the Triple Crown of Acting. The first was an Academy Award for Best Supporting Actress in West Side Story (1961), later followed by a Tony for Best Featured Actress in The Ritz (1975) and an Emmy in 1977 for The Muppet Show.
Her Muppet Show Emmy made her the third person to win an Oscar, a Tony, an Emmy, and a Grammy (for the 1972 Electric Company cast album).
She was also nominated for an Emmy for her appearance in the 1974 Sesame Street / Electric Company crossover special, Out to Lunch.
For Sesame Street, Moreno provided vocals for two songs -- "Women Can Be" and "There's a Hole in the Bucket." She also appeared on the show in Episode 0637 as her character Millie from The Electric Company.
For the 2021 Sundance Film Festival, Moreno and Sonia Manzano participated in one of the festival's Cinema Café interviews, in conjunction with the release of Street Gang: How We Got to Sesame Street, as well as Moreno's documentary Rita Moreno: Just a Girl Who Decided to Go for It. In the interview, Moreno shared how she first met Jim Henson, running into him having lunch, and approached him about doing female voices for the show, auditioning on the spot. (YouTube)
References
External links