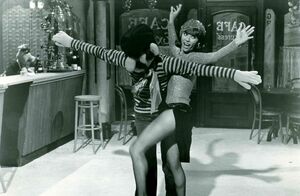 Rita Moreno (b. Rosita Dolores Alverío, 1931) is an actress arguably known for her roles of aggressive Latin women who guest starred on The Muppet Show episode 105. She also hosted The Muppets Go Hollywood in 1979.
In 1977, she became the ninth performer to win the Triple Crown of Acting. The first was an Academy Award for Best Supporting Actress in West Side Story (1961), later followed by a Tony for Best Featured Actress in The Ritz (1975) and an Emmy in 1977 for The Muppet Show.
Her Muppet Show Emmy made her the third person to win an Oscar, a Tony, an Emmy, and a Grammy (for the 1972 Electric Company cast album).
She was also nominated for an Emmy for her appearance in the 1974 Sesame Street / Electric Company crossover special, Out to Lunch.
For Sesame Street, Moreno provided vocals for two songs -- "Women Can Be" and "There's a Hole in the Bucket."
External links