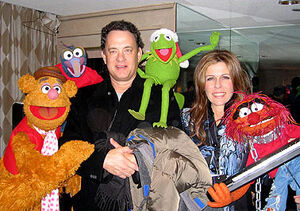 Rita Wilson (b. 1956) is an American actress and producer, and is best known as the wife of Tom Hanks.
Wilson began her TV career playing a cheerleader in a 1972 episode of The Brady Bunch. Other television appearances include guest spots on Frasier, Happy Days, M*A*S*H, and Curb Your Enthusiasm, and the HBO original miniseries From the Earth to the Moon.
A producer for such films as My Big Fat Greek Wedding, Wilson has also appeared on Broadway in Chicago, and in the feature films Sleepless in Seattle, Jingle All the Way, Psycho, and Autofocus.
She rapped about Sesame Street in the opening sequence to the 2021 Emmy Awards Ceremony.
External links