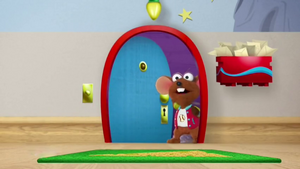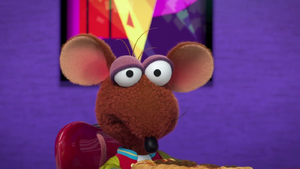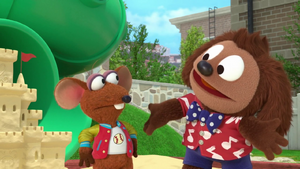 A younger version of Rizzo the Rat is seen in Disney Junior's Muppet Babies. He first appeared in the episode "How Kermit Got His Groove," where it's revealed he lived behind a hole in the wall. Making a mess in the playroom, he informs the babies that he's decided to move in, challenging Baby Kermit to a dance-off to determine whose playroom it is. After Kermit wins the dance-off, Rizzo sadly admits defeat and plans to leave them alone, but Kermit informs him that he's welcome to come over and play anytime.
Rizzo goes on to become a recurring guest character in the show. He makes a cameo in a fantasy sequence in "Summer Penguin P.I," he appears as the "picky" customer in Kermit and Fozzie's pizza parlor in "Best Pals Pizza Parlor Palace," he plays the Tooth Fairy in "Tooth and Consequences," he joins the gang in trying to stop a giant Animal in "Animal Kong," and he pretends to be a puppy so the other kids can practice taking care of one in "Puppy for a Day." He continues to make sporadic appearances into the second season, including "Meatball Mayhem," where, for the first time, he turns down the offer of free food.
The 2018 series is Rizzo's first on-screen appearance with the Muppet Babies, but he'd been referenced in merchandise in relation to prior versions of the franchise. A 1986 Colorforms set notably includes characters not seen on the animated series including Gaffer, a more chicken-like Camilla, and Rizzo. Having been established in illustrated form, a baby rat appears four years later in Muppet Babies' Classic Nursery Rhymes and Muppet Babies' Classic Children's Tales as an established fixture in each photo pictorial in both books and illustrated by Tom Brannon in the accompanying text.
Rizzo's Siblings
Rizzo's siblings are named in the third season premiere episode: "There's Markie, Mikey, Danny, Davey, Vinny, Timmy, Tammy, Tommy, Robbie, Ronnie, Johnny, Jennie, and Craig." His brother Ricky (voiced by Jessica DiCicco) can briefly be glimpsed in "Summer's Car Trouble".
Filmography