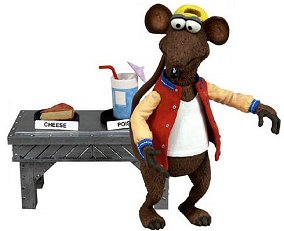 Rizzo the Rat was released in the fourth series of Palisades Toys' line of Jim Henson's Muppets Action Figures. He was the smallest figure to be produced.
The experimenting table with the cheese and the rat poison and the boxing glove were taken from the 'Lab Rat' scene of Muppets from Space. Rizzo wore the headset in Muppets Tonight. The pizza box featured a drawing of the Swedish Chef.
Two different Rizzos were produced: one in a red jacket, and one in a blue jacket. The red Rizzo has a yellow hat, a silver eperimenting table, black plates, a red boxing glove on silver spring and a white pizza box. The blue Rizzo has a red hat, a golden eperimenting table, grey plates, a black boxing glove on golden spring and a light brown pizza box. The headset, cheese, rat poison (a blue cup with a red straw and purple umbrella) and piece of pizza are the same for both Rizzo's. An extremely rare Black Jacket Rizzo Action Figure was made as an industry giveaway.
Articulation

neck, ball joint shoulders, wrists, waist, hips
Accessories

Hat, headset, experimenting table, cheese and rat poison on plates with signs, boxing glove on spring, pizza in box, piece of pizza
See also