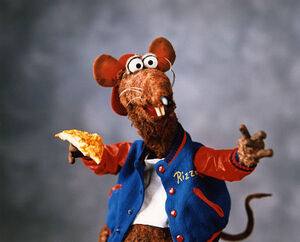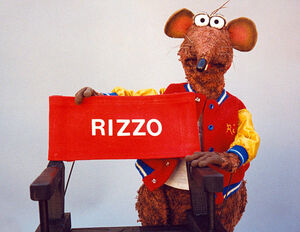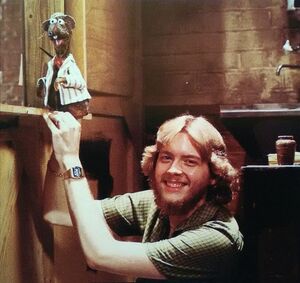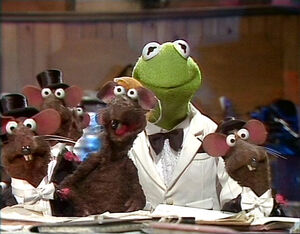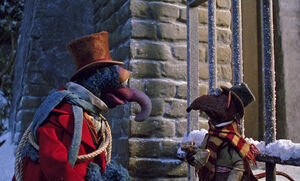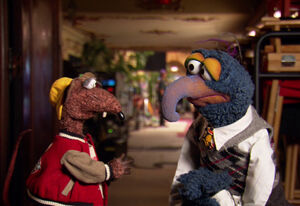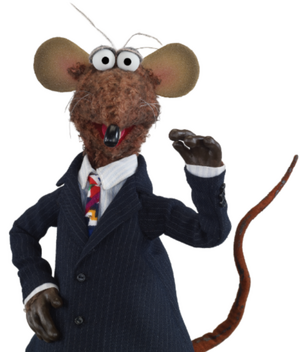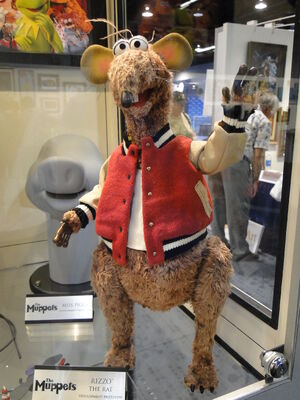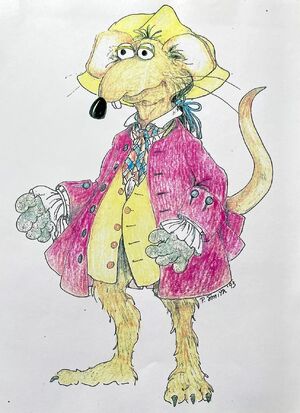 Rizzo the Rat is a rat who has a tendency to crack mocking jokes at others or make fun of them. Sometimes, as seen in The Muppets Take Manhattan, he tries to cheat people into getting something he wants. However, he also has a sensitive side (according to Tim Hill and Gonzo during an audio commentary for Muppets from Space) and is good friends with a couple of characters. He was created by Steve Whitmire after he took a fascination to a bunch of old rat puppets made from bottles by Don Sahlin for The Muppet Musicians of Bremen. Whitmire made costumes for Rizzo, and the Muppet Show Fan Club newsletter (vol. 2, no. 4, 1980) claimed that "It is Rizzo's greatest ambition to wear a different costume every time he appears in a shot! Watch out for this well-dressed rodent -- he has every intention of succeeding. Rat on, Rizzo!"
In Jim Henson's Muppetvision 3D,he dresses up like Mickey Mouse which causes Sam the eagle 2 get angry @ him. Sam states,"You R NOT Mickey Mouse,U R a rat". This takes place in the pre-show area of the attraction @ Disney California Adventure.
Rizzo first appeared in episode 418 of The Muppet Show, as one of a group of rats following Christopher Reeve around backstage.[1] He can be seen mugging and reacting to practically every line of dialogue. His first known mention by name on-screen was by Kermit in episode 422. He remained a scene-stealing background figure through the final season, occasionally performing with Dr. Teeth and the Electric Mayhem.
He had a minor role in The Great Muppet Caper and a larger supporting part in The Muppets Take Manhattan, but his "big break" occurred when Jerry Juhl paired him with Gonzo to narrate The Muppet Christmas Carol. He has since become one of the principal Muppet characters, also starring in Muppet Treasure Island, Muppets from Space, Muppets Tonight, and The Muppets' Wizard of Oz (appearing in the latter as the Mayor of Munchkinland).
Since The Muppet Christmas Carol, Rizzo and Gonzo have been best pals. However, that wasn't their first pairing together. They had previously interracted in The Muppets Celebrate Jim Henson, and appeared in a sketch together on Good Morning America, broadcast March 10, 1992. Rizzo and Pepe the King Prawn also seem to have a strong friendship in Muppets from Space. Although Rizzo has no lines in the newest film, The Muppets, he and Gonzo were interviewed together behind the scenes. In an interview, Nick Stoller explained that they tried to include as many characters as possible, but couldn't find a spot for him (or Bean Bunny) in the movie.[2]
In the 1999 book Muppets from Space: The Making of Muppet Movie Magic, Whitmire said:
"

[Playing Rizzo] was tough at first. I was much more inhibited about the performance because I wasn't sure who he was or what I should do with him. Plus, they wanted him to be a sarcastic sort of New York character. I'm from Atlanta, you know? I mean, I didn't know anything about a sarcastic New York character, so I sort of had to grow into him.

"
Rizzo is named after Ratso Rizzo, a character from Midnight Cowboy portrayed by Dustin Hoffman. This name was suggested by Frank Oz. [3]
Filmography
Book appearances
Albums
Video Games
Sources
↑ The Muppet Show Fan Club Newsletter - Volume 2, Number 4