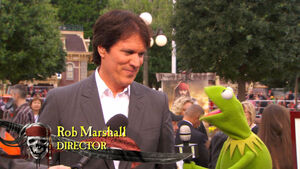 Rob Marshall (b. 1960) is an American theatre director, Academy Award nominated film director and choreographer best known for his film Chicago (featuring Queen Latifah and Taye Diggs). Marshall was interviewed by Kermit the Frog on the black carpet premiere of Pirates of the Caribbean: On Stranger Tides at Disneyland. During the interview, Marshall commented to Kermit, "I heard you have a movie coming out," referring to The Muppets.
Among Marshall's television credits are directing and choreographing the television remake of Annie (featuring Kristin Chenoweth) and choreographing both Mrs. Santa Claus (featuring Charles Durning and Michael Jeter) and Rodgers and Hammerstein's Cinderella (featuring Whoopi Goldberg, Brandy, Bernadette Peters and Jason Alexander).
Marshall's Broadway credits include performing in CATS, and working on the musicals Seussical, Stephen Sondheim's Company and Victor/Victoria (starring Julie Andrews).
External links
Community content is available under
CC-BY-SA
unless otherwise noted.