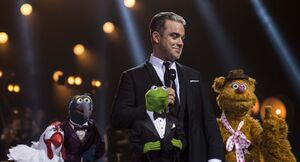 Robbie Williams: One Night At The Palladium is a 2013 television special starring Robbie Williams. The special features guest performances by Lily Allen, Rufus Wainwright, and the Muppets. The special was filmed on November 8, 2013 and aired on BBC One on December 6th. It was released on BBC.co.uk's iPlayer along with an extended-edition DVD and Blu-ray release on December 9th.
Muppet Sketches
The special begins with Kermit the Frog introducing Williams and the show.
After the opening number, Kermit, Gonzo and several Muppet chickens are shown running a chaotic backstage television control room; Williams comes in and tries to control the backstage mayhem but Kermit and Gonzo simply end up tricking him into promoting Muppets Most Wanted instead.
Statler and Waldorf heckle Williams' performances from the theater's balcony throughout the show. At one point Williams spars back and forth with the Muppet duo and tires to impress the curmudgeons with a rendition of "Minnie the Moocher."
Later, Williams visits Miss Piggy in her dressing room. Miss Piggy is unfamiliar with who Robbie Williams is; she is upset that she is not being treated like royalty and complains to Williams about her treatment. Kermit comes in to explain to Piggy that she is actually talking to the star of the show, and that Williams is quite famous in the UK. Miss Piggy is unimpressed.
In another segment, Fozzie and Gonzo sit down with Williams backstage between his musical numbers to give suggestions on how he can make the show "amazing-er." Gonzo suggests shooting Williams out of a cannon; Fozzie suggests telling more jokes (and offers up some of his material).
Robbie wraps up the special by singing a duet of "Somethin' Stupid" on stage with "one of the biggest stars of all time" — Miss Piggy.
The show concludes with Statler and Waldorf heckling during the closing credits.
Releases
External links
Community content is available under
CC-BY-SA
unless otherwise noted.