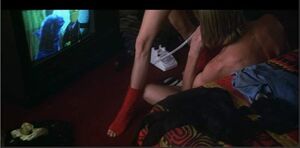 Robert Altman (1925-2006) was an Academy Award-nominated film director (and screenwriter and producer) whose trademarks included large ensemble casts and overlapping dialogue. His best known movies include M*A*S*H, Nashville, McCabe and Mrs. Miller, and The Player, in addition to The Long Goodbye, Popeye, and over a dozen more.
One of Altman's later films, Gosford Park (2001), featured digital effects by Jim Henson's Creature Shop.
The 2014 book Make Art, Make Money: Lessons from Jim Henson on Fueling Your Creative Career quotes Caroll Spinney referencing a meeting between Henson and Altman: "I was concerned about a nine o'clock call time that morning. Jim said that he'd be ready for it because he had a 5:00 A.M. meeting with Robert Altman first."[1]
References
Muppet Mentions
In Brewster McCloud (1970), Brewster's boss Abraham Wright keeps shouting about how he needs to get home so he can watch Sesame Street.
Connections
In addition to the casts of Nashville and Gosford Park, several of Altman's cast also appeared in Muppet-relevant projects
Sources
↑ BOOK EXCERPT: MAKE ART MAKE MONEY: LESSONS FROM JIM HENSON ON FUELING YOUR CREATIVE CAREER BY ELIZABETH HYDE STEVENS. RogerEbert.com. May 17, 2014
Community content is available under
CC-BY-SA
unless otherwise noted.