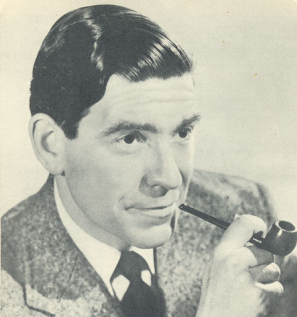 Robert Beatty (1909-1992) was a Canadian born actor who worked primarily in England, and supplied the voice of Left Door Knocker in Labyrinth. Beginning in 1947, he starred as Irish detective Philip Odell in a series of BBC radio dramas which lasted until 1961.
In film and television, Beatty played an assortment of blustery politicians, businessmen, generals, and other rough-hewn American "civic leader" types. One of his more notable film roles was as Dr. Ralph Halvorsen in 2001: A Space Odyssey. His other movie credits ran the gamut of military, police, and government ranks, from an RCMP mountie in The Invaders (co-starring Eric Clavering) to a cynical US admiral in The Pink Panther Strikes Again, General Carnaby in Where Eagles Dare (with Michael Hordern), Senator Milburn in the Disney comedy The Unidentified Flying Oddball, and appearances in two Superman films, as a tanker captain in Superman II and the President in Superman IV: The Quest for Peace.
TV roles generally fell along similar lines, starring as Inspector Mike Maguire on the British TV series Dial 999, playing General Cutler in the Doctor Who serial "The Tenth Planet," Lord Beaverbrook in the TV movie The Gathering Storm, and in 1987, he portrayed Ronald Reagan in Breakthrough at Reykjavik.
External links
Community content is available under
CC-BY-SA
unless otherwise noted.