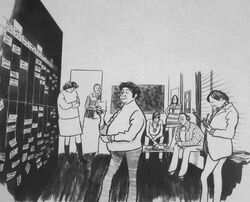 Robert Cunniff (1927-2008) was a producer of Sesame Street during seasons 4 and 5.
Cunniff worked for The Today Show in the mid-1960s, with Hugh Downs and Barbara Walters, and with Dick Cavett on The Dick Cavett Show and later Cavett broadcasts in the 1980s and 1990s. He is well known for booking Norman Mailer and Gore Vidal on the same show, with the elderly, mild-mannered New Yorker writer Janet Flanner as "referee".
After Cavett's first show, he moved to the Children's Television Workshop, where he was a producer of Sesame Street from 1972 to 1974. He wrote numerous sketches, and shared an Emmy Award ("Outstanding Achievement in Children's Programming - Entertainment/Fictional") with executive producer Jon Stone. Skits he was directly involved in include "Morty Moot Mope" and "The Ballad of Casey McPhee"
The following year, he became the managing editor of Good Morning, America.
Among his other credits were the creation of the Disney Channel's Mousterpiece Theater, and writing for TV Guide. His pioneering behind the scenes segments on The Dick Cavett Show inspired a 1970 cartoon in The New Yorker, without words, a rare inclusion.
Born in Chicago, Illinois, Cunniff died on January 20, 2008 in Brooklyn, New York City after a long illness.
External links
Community content is available under
CC-BY-SA
unless otherwise noted.