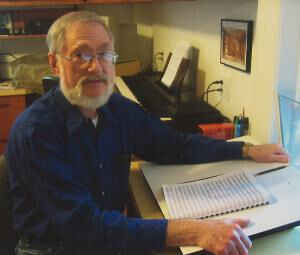 Robert Dennis (1933-2018) was a composer whose work includes choral works and musical theater projects, notably Oh! Calcutta! (collaborating with Peter Schickele & Stanley Walden). Dennis wrote and performed music for Sesame Street on several occasions. The early 1970s Mad Painter series featured Dennis playing his own music on a tack piano. In February 1975, Dennis wrote the score (vocal, piano/keyboard, flute, bass clarinet) for a frequently aired 4.5 minute film called "Milk" (EKA: Episode 0868) and three scores (same instruments minus the vocal) for the inserts "Elk Feeding," "Sheep Feeding," and "Cow Feeding."
Dennis's theater and film credits include full scores and incidental music for the New York Shakespeare Festival productions, Bound to Rise (a Horatio Alger musical), and three installments of the PBS "Dance in America" sub-series of Great Performances.
External links
Community content is available under
CC-BY-SA
unless otherwise noted.