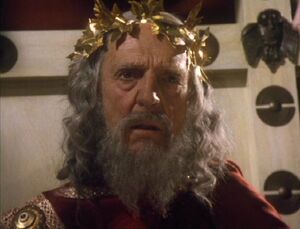 Robert Flemyng (1912-1995) was a British actor, known for his work on stage and screen, who played Aegeus in The StoryTeller: Greek Myths episode "Theseus and the Minotaur."
Flemyng began his career on stage in the 1930s, including West End productions, and made his Broadway debut in 1938 in Spring Meeting (directed by John Gielgud), followed by No Time for Comedy (1939). When England entered the second World War, he enlisted and his service earned him the OBE (Order of the British Empire) in 1944. Resuming his acting career in 1948, he returned to Broadway in The Importance of Being Earnest (netting a 1948 Tony Award for Outstanding Foreign Company) and continued to appear in Broadway plays through 1957, in addition to the West End and other British theaters.
Beginning in 1948, he also began appearing in films, usually as a supporting player and often as a military officer. He appeared in Hollywood studio fare like Conspirator (with Elizabeth Taylor) , the musical Funny Face (with Audrey Hepburn, as designer Paul Duval), and the fact-based The Man Who Never Was (with the voice of Peter Sellers) plus a spate of British titles. He starred as mad scientists in the 1960s entries The Horrible Dr. Hichcock and The Blood Beast Terror. Other films included The Quiller Memorandum, The Deadly Affair (with James Mason), Oh! What a Lovely War (directed by Richard Attenborough), Battle of Britan, Young Winston, Travels with My Aunt, the 1978 remake of The Thirty-Nine Steps (as the magistrate), and Shadowlands.
On TV, Flemyng appeared on the various televised play anthologies from the mid 1950s onward, in both the US and England. In New York, concurrent with his Broadway work, he appeared on The Elgin Hour (in "Sting of Death" opposite Boris Karloff), Studio One, Playhouse 90, The Alcoa Hour, and Omnibus. On UK television, he starred on Family Solicitor (1961), was a regular on the office soap opera Compact as managing editor Edmund Bruce (1963-1964), and recurred on Crown Court as prosecutor Nigel Latimore QC, later promoted to judge (1976-1982). He made guest appearances (often as a worried peer or government figure) on action series Danger Man, The Avengers, The New Avengers, The Persuaders!, and The Professionals, as well as the historical miniseries Edward the King, Edward and Mrs. Simpson, adaptations of Vanity Fair and Rebecca, and an episode of the 1980s sitcom Executive Stress.