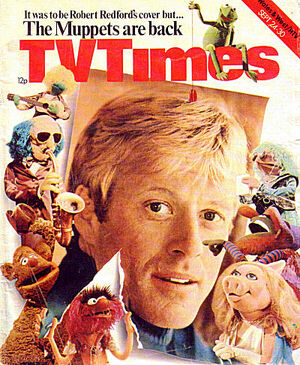 Charles Robert Redford Jr. (b. 1936), better known as Robert Redford, is a film director, actor, producer, businessman, model, environmentalist, philanthropist, and founder of the Sundance Film Festival. Redford's starring roles include Barefoot in the Park (1967), Butch Cassidy and the Sundance Kid (1969), The Sting (1973), All the President's Men (1976) and Out of Africa (1985). He received two Oscars: one in 1981 for directing Ordinary People, and one for Lifetime Achievement in 2002.
References
Notes
When Jim Henson was putting together ideas for The Great Muppet Caper, he considered Redford for the role that would eventually become Nicky Holiday. "Some very good looking dashing leading man type to be Kermit's rival - Robt Redford? Chris Reeve? he's totally in love with Piggy - she treats him like dirt."[1]
Sources
External links
Community content is available under
CC-BY-SA
unless otherwise noted.