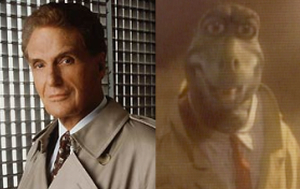 Robert Stack (1919-2003) was an American actor who played handsome "other man" roles in movies from the 1940s and 1950s (most notably the original To Be or Not to Be with Jack Benny). He went on to greater fame on television as Eliot Ness on The Untouchables and as the host of Unsolved Mysteries.
Stack appeared in the 1979 special The Muppets Go Hollywood, in which Rita Moreno interviewed him. Stack expressed his disappointment over Miss Piggy's inaccessibility, since she "has more latent sex than anyone since Jean Harlow." He was later spoofed on Dinosaurs in "The Last Temptation of Ethyl," as the host of Mysteries That Haven't Been Solved Yet.
External links
Community content is available under
CC-BY-SA
unless otherwise noted.