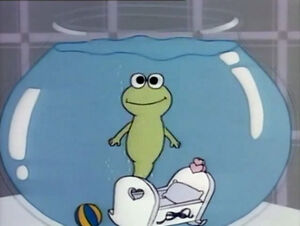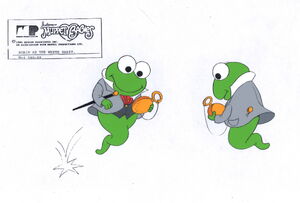 A tadpole Robin was the Muppet Babies version of Robin the Frog. He was largely confined to his bowl and could not communicate his thoughts to the other Muppet Babies, except for Baby Animal.
He first appeared in the first season episode "Close Encounters of the Frog Kind." Baby Kermit discovers he's an uncle because his "big sister" had babies. Robin wonders if he'll look like the "big frog" Kermit when he grows up.
Robin appeared again in the fourth season episode "Adventures in Muppet-Sitting."
Robin, like Baby Animal, only speaks in baby babbles (although his thoughts are audible to the audience), but for one brief scene in "Close Encounters of the Frog Kind," his mouth movements sync up to one of his thoughts.
Robin appeared in two Colorforms playsets in 1985, the Muppet Babies Colorforms 3-D Play Set and the Muppet Babies Rub n' Play Transfer Set.
Muppet Babies reboot
Robin appeared in the Disney Junior reboot of Muppet Babies, in the episode "Tagalong Polliwog."[1] This iteration of the character ages him up to be a polliwog, providing him with legs and feet in addition to his more versatile tail.
In the episode "Frog Scouts," it is revealed that Robin, along with Kermit and Carlos, is part of a scout troop of the Frog Scouts lead by Mr. Manny.
Filmography
Sources