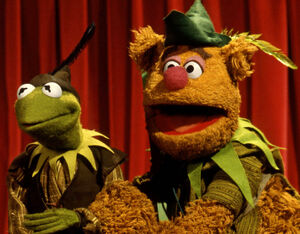 Robin Hood is the story of the legendary figure who famously "robs from the rich to give to the poor". The tale has been referenced and adapted by the Muppets several times.
The Muppet Show cast reprised their roles in a 1980 book, Robin Hood. Once again, Kermit played Robin, Fozzie Bear was Little John and Gonzo was the Sheriff of Nottingham, but this time, there were no human guest stars, and Miss Piggy could snag the plum role of Maid Marian. The book also featured Floyd Pepper as Will Scarlett and Sam the Eagle as the Town Judge.
Issue 15 of the Spanish comic book Epi / Blas ...y los demás features the story "Robin Epi Hood" with Ernie (Epi) playing the titular role.
Cookie Hood, who takes cookies from those with a surplus and gives to the cookie-less, appears in Sesame Street Episode 4033.
Muppet Robin Hood is a 2009 comic book starring the Muppets as characters from the story.
Wolle dresses up as Robin Hood in a Koontrollraum sketch so that he can start the next segment by shooting an arrow at the button. But in the end he concludes that maybe he should dress up like an Indian next time, as he thinks they are better with a bow and arrow.
Connections
Community content is available under
CC-BY-SA
unless otherwise noted.