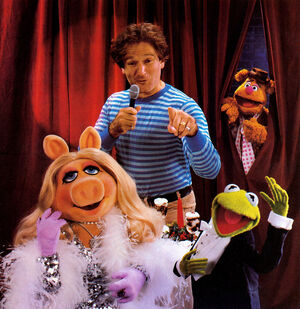 Robin Williams (1951-2014) was an actor and comedian who first became famous as the star of the TV show Mork & Mindy. That series also helped make his mark as a hailed master of improvisational comedy, whom writers of various productions learned it was often best to accommodate him considering his off-the-cuff humor was often better than their more carefully prepared material.
He later became known for his starring roles in the films Good Morning, Vietnam, Dead Poets Society, Mrs. Doubtfire and Good Will Hunting, for which he won an Academy Award for Best Supporting Actor. He was also well-known for voicing the Genie in Disney's Aladdin and its sequel, Aladdin and the King of Thieves.
Williams was announced as a guest star for the fourth season of The Muppet Show in The Muppet Show Fan Club Newsletter (v2 no.2), but did not appear on the show.
However, he later got to appear with the Muppets in the Winter 1983 issue of Muppet Magazine where he was interviewed by Kermit the Frog. He also appeared in the Spring 1986 issue to receive an Honorary Muppet Award.
Sesame Street
Picture
Appearance
Description

Episode 2749
Williams demonstrates with his shoe how to tell if something is alive.

Episode 2765
Williams demonstrates the uses of knees.

Episode 2795
Williams asks Elmo and the kids whether they would allow a nonsense talking, horned two-headed stranger to play baseball with them. The Two-Headed Monster shows up to play.

Episode 2835
Williams shows Elmo the many fun things one can do with a stick. The basic script was written by Sonia Manzano, but Williams improvised during taping, including the reference to Gene Shalit's mustache.[1]

Outtakes from this appearance were featured in the 2018 HBO documentary Robin Williams: Come Inside My Mind.

Episode 2835
Williams appears in the celebrity version of "Monster in the Mirror".

Episode 2848
Williams and a robin observe how similar they are. Afterwards, the robin sings "Lullaby of Birdland".

Episode 4280
Williams wants the Two-Headed Monster to demonstrate conflict, but they (ironically) get along.
Gallery
Sources
External links
Community content is available under
CC-BY-SA
unless otherwise noted.