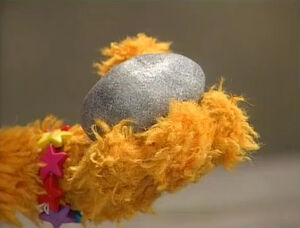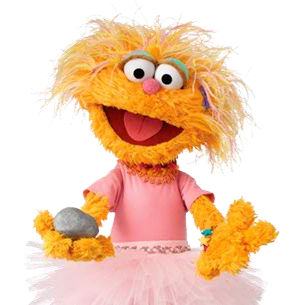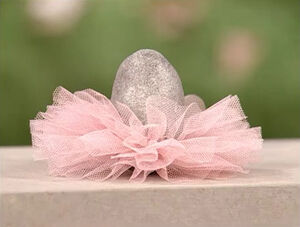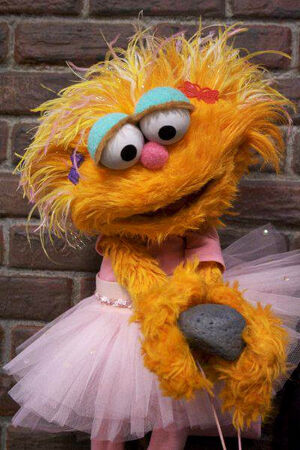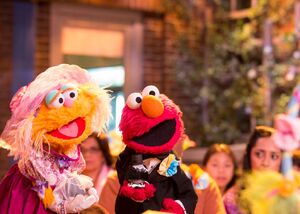 Rocco is Zoe's four-year-old[1] pet rock, introduced in Sesame Street's 30th season.
Though he's inanimate, in Zoe's mind, Rocco can do anything. The rock has historically been the cause of much annoyance to Elmo, who often gets flustered and constantly reminds Zoe that "Rocco's just a rock!" While Elmo is driven crazy by Rocco's (and Zoe's) antics, the other characters are usually unfazed and willing to play along with Zoe's pretending. In Episode 4235, Elmo accidentally loses Rocco and comes to realize how special he is to Zoe (much like Elmo's Baby David).
According to Episode 3809, Rocco's favorite movie is Jim Henson's "Number Twelve Rocks," and he's given the opportunity to appear in the film at the end. Virgil von Vivaldi informs Zoe that Rocco is basalt in Episode 4234, having observed all his Swiss cheese-like holes, meaning he came from a volcano.
Rocco's friends and family appear in Episode 4126, including Rocky, Rockmaninoff, Uncle Rock, Aunt Rock, and Little Rock; it is unknown if he has other family members. Rocco extended his family in 2014 when Zoe and Elmo arranged a wedding for he and his bride Petra in Episode 4424; the ceremony was overseen by a Muppet minister and ended with a kiss between the married couple.
Rocco's influence extends beyond Sesame Street including an appearance in the Sesame Street Live production "Super Grover! Ready for Action," a mention from Zoe during a 2009 appearance on Today, and as the inspiration for a Canadian equivalent in the Sesame Park episode "Rocky and His Friends."
Filmography
Book Appearances
Social media
On January 3, 2022, a video clip from Episode 4077 went viral on Twitter in which Elmo reacts to Rocco's existence as merely a rock. Several news outlets picked up on it including NPR [1], The LA Times [2], NBC News [3], and Good Morning America [4] [5].
In response, Sesame Workshop countered with several posts centered around the 23 year relationship between Elmo and the pet rock. The Elmo account posted, "Don't worry everybody! Elmo and Zoe practiced sharing and are still best buds forever! Elmo loves you Zoe! Ha ha ha! Elmo doesn't want to talk about Rocco." [6] and "Has anybody ever seen a rock eat a cookie? Elmo is just curious." [7], while the main account posted a video clip from Episode 4258 in which Elmo discovers that he's been holding Rocco's butt [8].
Actor Dwayne "The Rock" Johnson picked up on Elmo's tweet and delivered a warning: "Tell Cookie Monster to move it over, cuz I'm coming to Sesame Street to kick ass and eat cookies." [9] The Cookie Monster account responded, "Me say cookie challenge ACCEPTED!!!" [10]
This exchange and the Rocco/Elmo "feud" inspired countless memes from Twitter users, including a number of official franchise accounts such as Amazon Prime [11] [12], Cartoon Network [13] [14], the Dallas Mavericks [15], SeaWorld [16], and Sole Savvy [17] using the opportunity to advertise licensed Elmo shoes from Puma. The feud was also parodied in a Weekend Update sketch in the January 15, 2022 episode of Saturday Night Live. Elmo appeared on Daily Pop on January 25, 2022 to discuss the feud.
See also
Sources