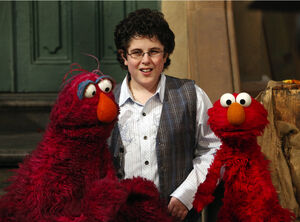 Rocco Fiorentino, a blind, sixth-grade jazz singer, appeared in a 2010 episode of Sesame Street. Fiorentino has also performed with Stevie Wonder and Tony Bennett.
In the episode, Fiorentino is playing with Telly when Elmo arrives. Telly starts to describe Elmo to Fiorentino when Elmo asks why he needs to do that. Fiorentino explains that he is blind, and sings a song with the Muppets. The segment was taped the same day as one with Brendan Fraser.[1]
Fiorentino has also performed at Sesame Place as part of Cookie Monster's "Me Love Talented Kids" Weekend, May 19 to 20, 2007,[2] and at Birdland in New York City, which the Birdland club on Sesame Street was named after.
Sources
↑ Fiorentino's official site. 2010 press release for appearance.
↑ "M IS FOR MAY! AND ALL OF THE MARVELOUS EVENTS HAPPENING AT SESAME PLACE", Sesame Place press release, 26 March 2007.