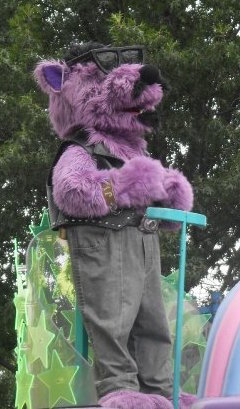 The Rock Around the Block Parade debuted at the Sesame Place theme park in 1997, replacing the "AmaZing Alphabet Parade". The parade continued to run daily at the park until October 31, 2010; it has since been replaced by the Neighborhood Street Party parade.
Songs
All songs are sung by the Sesame Street characters and played via pre-recorded tracks. Many lyrics are changed to include references to Sesame Street characters.
Tequila (lyric changed to "Hola!")
Get on your feet
Happy Birthday
Parade features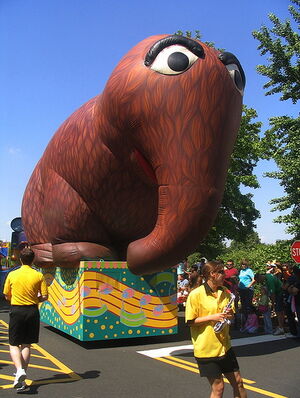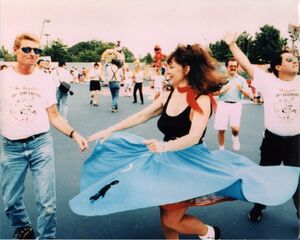 Jackman Wolf, serves as the parade DJ from atop a giant Jukebox float.
Hoots the Owl rides a float designed to look like the Birdland night club. Bert and Ernie, dressed in jazz attire (sunglasses, black shirt and berets) also ride the float, coming off to dance in the street and interact with viewers at points along the way. On days that the park has a special musical guest, such as Christy Carlson Romano, they appear on this float.
Count von Count rides a float seated at a giant pipe organ, occasionally coming off to dance and interact with guests.
A float with a large drum set being played (at times) by Elmo
A Birthday Cake float for the 30th Anniversary
A large Big Bird balloon float brings up the rear, with honorary Birdketeers riding and waving to guests.
Special guests
At a 1997 launch year event, dancers from American Bandstand appeared. Various Philadelphia and Los Angeles regulars appeared at the event.
Videos
Sources
Community content is available under
CC-BY-SA
unless otherwise noted.