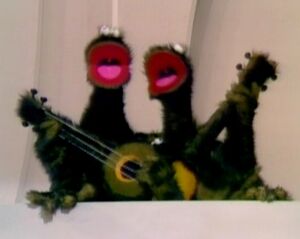 "Rock It to Me" was performed on The Ed Sullivan Show by the Rock and Roll Monster.
On The Ed Sullivan Show, Ed Sullivan introduced the sketch by showing the audience a present that the Muppets had given him, an instant rock and roll group. The group grew from a small fuzzball into the three-headed Rock and Roll Monster, replete with built-in instruments. After the monster played the song, it shrank back to its original form and was eaten by Sour Bird.
The rock band heard on the song is The Bruthers, a garage band from Pearl River, New York. The band released two singles on RCA in 1966. Neither charted (and neither featured "Rock It to Me") but the first of the two, "Bad Way to Go," is a cult-classic among collectors of 1960s garage rock.
In 2003, a CD of recordings by The Bruthers was released by Sundazed Music, containing both singles and several unreleased rarities by the group as they were under contract to Capital Records. "Rock It to Me" was not included on this collection. The recording is presumed lost.
External links