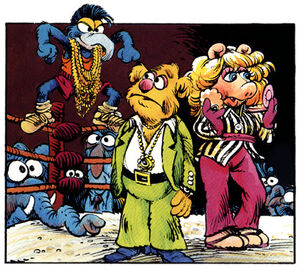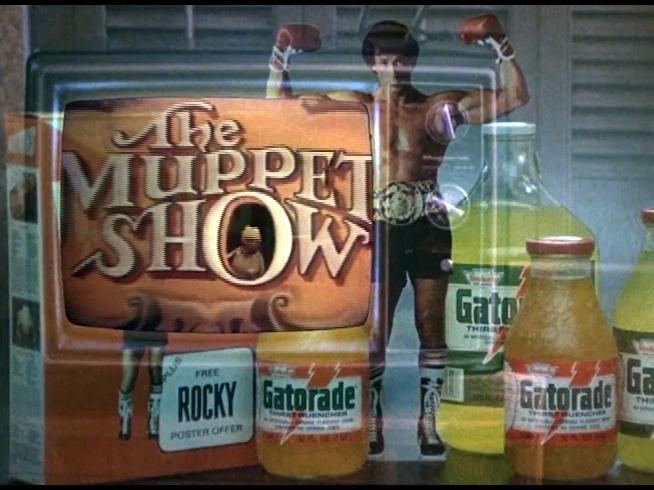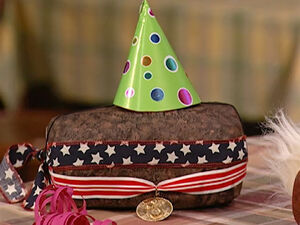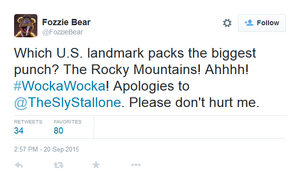 Rocky is a 1976 film starring Sylvester Stallone as Rocky Balboa, an amateur boxer who unexpectedly has a chance to compete in the world heavyweight championship. The movie spawned several sequels, and the Creed spin-offs.
References
In a filmed segment for Rechov Sumsum about a boy who practices, trains, and enters a mini-marathon, a track from the Rocky theme is used.
Baby Bear's celebrations of learning in Sesame Street Episode 3230 are scored by a spin on "Gonna Fly Now," the theme of the 1976 film.
In Sesame Street Episode 3809, Elmo tries to guess what Rocco's favorite movie is; among the movies he names is Rocky.
In Sesame Street Episode 4126, Rocco's friends and family attend his birthday party, including Rocky, a rock adorned in a starred headband and striped belt with a medal attached.
Sesame Street Episode 4302 features Telly training Elmo to be the Hot Potato Winner in a montage spoofing that of the Rocky films, putting Telly and Elmo in Mickey and Rocky's roles (and outfits) respectively. The montage is underscored by "Eye of the Potato," a parody of Rocky III's theme "Eye of the Tiger."
On September 20, 2015, Fozzie Bear posted a Twitter status: "Which U.S. landmark packs the biggest punch? The Rocky Mountains! Ahhhh! #WockaWocka! Apologies to @TheSlyStallone. Please don't hurt me." [1]
A 2017 Vanity Fair video of the Sesame Street cast reciting various movie quotes features Grover performing Rocky's famous line "Yo, Adrian!"
Mentions
In Rocky II (1979), Rocky mentions his plans for his earnings:
"I'd like to buy a couple hats, a motorcycle, a couple quarts of perfume for Adrian she likes to smell good. And some Muppet toys you know, Ernie, Big Bird. And the frog what's his name? Kermit?"
During a montage meant to show Rocky's rise to fame in the beginning of Rocky III (1982), The Muppet Show can be seen and heard on a television. Jim Henson recorded a special Muppet Show intro as Kermit announcing that the episode featured Rocky Balboa, the title character of the film. Footage from Sylvester Stallone's 1978 episode of The Muppet Show was used and passed off as that of Rocky Balboa.
Connections
Apart from Stallone, the following actors worked with the Muppets/Henson and in the Rocky movies.