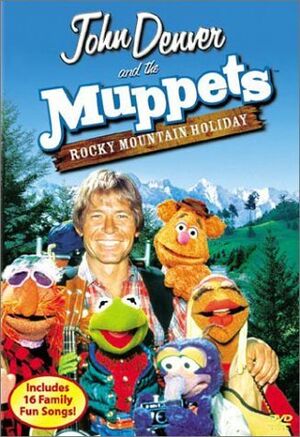 John Denver and the Muppets: Rocky Mountain Holiday was released on VHS and DVD by Columbia Tri-Star Home Entertainment in August 2003.
DVD Menus
Edits
There are slight changes in the presentation of the film on this release, due to sensitivity and musical issues. Due to legal issues, there is a slight change in a small piece of the film's musical underscore. There is some debate whether or not the special should have been cut, however producers decided, out of respect for John Denver and his family, to cut a particular scene from the special.[citation needed]
During the Jaws parody sequence (where Rowlf is in an inner tube floating down the river, and Gonzo is approaching with only his nose above water), the musical underscore was changed from the original broadcast version. Originally, the music was Jaws-like with a slight disco beat featuring a sax melody. The new release features a slower, sneaky score. The music was changed due to copyright issues with the Jaws theme.
The flying scene, where John and Rowlf are flying above the Rockies in a plane (John performs one stunt after another in order to cure Rowlf's hiccups), was removed from the special out of respect for Denver and his family. John Denver died in October 1997 due to a flying accident.
External links