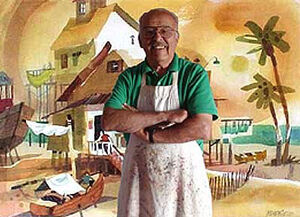 Roger Bradfield (1924-2021) was an illustrator, comic strip creator, and commercial artist. In the early 1960s, Bradfield designed cereal boxes for Kix, Trix, Wheaties and Jets. Bradfield published over a dozen children's books in the late 1960s, including There's an Elephant in My Bathtub, The Flying Hockey Stick, Giants Come in Different Sizes and Pickle-Chiffon Pie.
In the early 1970s, Bradfield illustrated some of the earliest Sesame Street books. The Together Book, published in 1971, was the first Sesame Street book in the popular Little Golden Books line.
Compared to modern illustrations of the Sesame characters, Bradfield's linework looks offbeat and scratchy. His characters have a kind of saggy, loose-limbed quality. In the early days of Sesame merchandising, there wasn't a defined style that the illustrators had to follow; the artists were essentially free to create their own style. Bradfield's art style is distinctive, and memorable. It's not the style that would later become the model, as Joe Mathieu's did. It remains personal and unique.
Bradfield also illustrated two Sesame Street sticker books in 1971: Sesame Street Alphabet Poster Book and Sesame Street Numbers Poster Book.
In 1972, Bradfield illustrated another Little Golden Book, Bert's Hall of Great Inventions. He also illustrated a Play and Learn Book, Big Bird's Birthday Party, and the first Sesame Tell-a-Tale Book, Sherlock Hemlock and the Great Twiddlebug Mystery.
Bradfield moved on from his Sesame work to create a newspaper comic strip, Dooley's World, which was distributed by King Features Syndicate from 1972 to 1978. Bradfield retired in 1988 and shifted to painting.
Cover gallery
External links