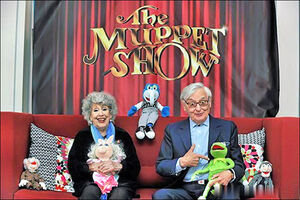 Roger Carel (b. 1927) is a French actor, the Gaulic equivalent of Mel Blanc, who supplied the voices of Kermit the Frog, Dr. Bunsen Honeydew (Walbec Bunsen), The Swedish Chef (outside of tracks with Henson's voice undubbed) and The Announcer in Le Muppet Show. He later dubbed Old Major in Animal Farm.
In a career spanning four decades, Carel has lent his voice to a variety of iconic characters, dubbing the likes of Mickey Mouse, ALF, and Winnie the Pooh, and originating the role of comic book character Asterix in a series of animated features, as well as on radio. Live action dubbing credits include Charlie Chaplin in The Great Dictator, Hercule Poirot in two different incarnations (Peter Ustinov in Death on the Nile and David Suchet in Poirot), and C3PO in the Star Wars franchise.
Community content is available under
CC-BY-SA
unless otherwise noted.