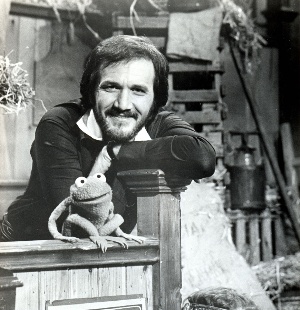 Roger Miller (1936-1992) was a country-pop singer and songwriter. He was the guest star on The Muppet Show episode 321, where he performed his novelty hits "You Had a Do Wacka Do," "Dang Me," "My Uncle Used to Love Me But She Died" and "You Can't Rollerskate in a Buffalo Herd".
Miller won 11 Grammys, a platinum single, six gold singles and five gold albums. His signature hit was "King of the Road."
He contributed songs and voice to Disney's 1973 animated version of Robin Hood as Alan-a-Dale (opposite Peter Ustinov as Prince John). He won Broadway's 1985 Tony Award for Best Score, Music and Lyrics, for Big River.
Miller died of cancer on October 25, 1992. He was posthumously elected to the Country Music Hall of Fame in 1995.
Connections
Jerry Nelson recorded Miller's "I'll Be Somewhere" as a single for Dot Records in 1966.
External links