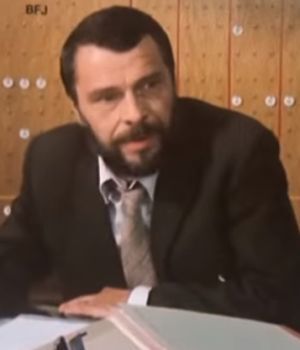 Rolf Jülich (1932-2005) was a German voice actor who voiced Bruno on the German dub of Dog City, replacing Gottfried Kramer for the final season. Jülich also spent a brief stint on Sesamstrasse dubbing Bert, such as in the 2004 stage show Sei Mein Freund!, substituting for the then-current voice Christian Rode.
Based out of Hamburg, Jülich dubbed Harry Belafonte in Kansas City, Jerry Orbach in Brewster's Millions, Jon Polito in Fire with Fire, Colin Foo in Voyage of the Unicorn, Vincent Price on Batman, Gregory Alan Williams on Baywatch, Rataxes on the animated Babar series, and multiple guest stars on The Six Million Dollar Man, Miami Vice, and Knight Rider. For video games, he was heard in the German dubs of several Star Wars games, Command & Conquer: Yuri's Revenge, Escape from Monkey Island (as Ozzie Mandrill), and Black Mirror (William Gordon).
On records and cassettes, Jülich played Zoar in the Masters of the Universe series, Captain Jim Stone and character parts in Edgar Wallace mystery albums, Reginald Bull in the Perry Rhodan series, and parts in the 2004 Sherlock Holmes CDs. On television, he appeared in the 1966 adaptation of The Great British Train Robbery, on Tatort (twice as the kommissar's assistant Korn), and in several TV movies.
External links