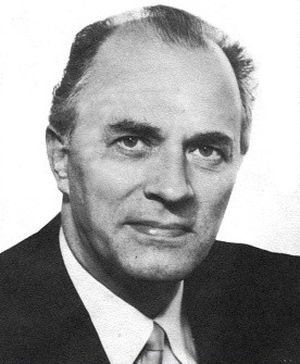 Rolf Mamero (1914-1988) was a German voice actor who dubbed Guy Smiley (Robert) on Sesamstrasse. He also dubbed minor Anything Muppets, such as one of the king's subjects heard on the album Sesamstrasse, Folge 3.
Mamero was an announcer and actor on German radio. Working primarily out of Hamburg and broadcasting most often on NWDR, he was heard in twenty episodes of the courtroom anthology Das Gericht zieht sich zur Beratung zurück (1952-1956), usually as the prosecutor. He was also heard in episodes of Gestatten, mein Name ist Cox (1952), spy serial Prozeßakte Vampire (1955), crime series Die Jagd nach dem Täter (1959), and adaptations of Oscar Wilde and W. Somerset Maugham.
Mamero narrated German films and newsreels and was a familiar voice in children's records and cassettes from the 1970s onward, as well as the novelty single B side Herr Ober, Ein Bier! (Waiter, a Beer!, 1973) with Günter Lüdke. He played policemen and other adult figures in The Three Investigators and Fearless Five series, mad scientist Dr. Giralda in Frankenstein's Son, the ship captain in 20,000 League's Under the Sea, Tom Stryver in A Tale of Two Cities, and various roles in the Tom and Jerry records.
In dubbing, Mamero often lent his voice to British actors, especially in dignified roles such as inspectors, and dubbed Donald Sinden in Eyewitness, Vincent Price in The Big Circus, Leslie Phillips in Carry On Nurse, and assorted characters on The F.B.I. and Bonanza. On camera, he appeared in the 1969 television opera Die Teufel Von Loudun (The Devil of Loudun, based on an Aldous Huxley book) as the judge and on episodes of Tatort and Die Schwarzwaldklinik.
External links