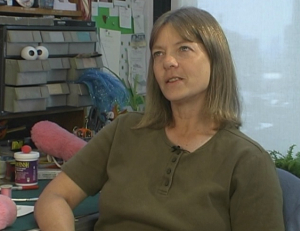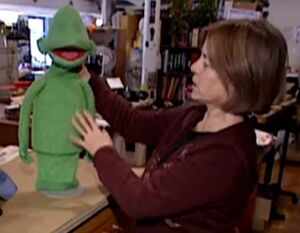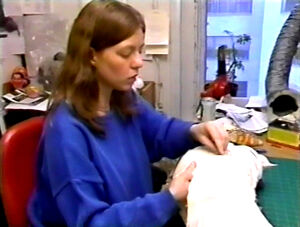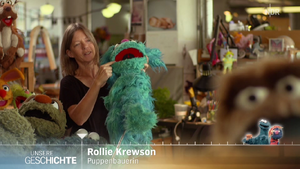 Rollie Krewson (sometimes credited as Rollin Krewson) interned with the Muppets in the mid-1970s. She has contributed to almost every Henson production since her arrival and to this day carries her skills through Sesame Street.
She has been awarded 7 Emmy Awards for her contributions to Sesame Street and had been nominated many times for her work on other Henson productions. Although she now works primarily as a designer/builder, she began as a performer, doing small bits on The Muppet Show and other projects.
Krewson is frequently interviewed to comment on the process of puppet building, such as on the 2013 German documentary Als die Sesamstrasse nach Deutschland kam.
Design Credits
The Muppet Show: Sex and Violence - Built Heaps and Stalks
The Muppet Show - Muppet designer/workshop supervisor, built Chuckie, Wayne, Foo-Foo and many others
The Dark Crystal - Creature Design/Fabrication Supervisor: Fizzgig
Fraggle Rock - Built Wembley, Red, Balsam the Minstrel, and others
The Muppets Take Manhattan - Muppets' studio coordinator
The Tale of the Bunny Picnic - Built Twitch and Bean Bunny
Labyrinth - Creature workshop artist: The Wiseman, Fireys, Goblins
The Christmas Toy - built Rugby Tiger
Sesame Street - Built Zoe, Curly Bear, Abby Cadabby, Lulu, Julia and many more; has rebuilt Elmo (since 1988), Ernie and Bert
The Jim Henson Hour - Built Lindbergh
Dog City - Muppet Workshop project supervisor
The Muppet Christmas Carol (1992)
Plaza Sésamo - Built Lola and Pancho
Galli Galli Sim Sim - built Aanchoo, Googly, Chamki, etc.
The Animal Show - Project Supervisor, built Giraffe, Zebra etc.
The Wubbulous World of Dr. Seuss - Built Norval the Fish, Project Supervisor
The Adventures of Elmo in Grouchland (1999) -(Muppet builder/designer)
Muppets from Space (1999) - (project supervisor: Muppet workshop) (as Rollie Krewson)
Sesame Beginnings - Built Baby Elmo and Elmo's Dad
Sesamstraat - Built Purk
X•tink•shun - Built Didi the Dodo
Sesamstrasse - Built Pferd
Performer Credits
External Links