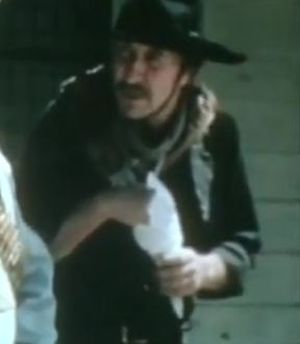 Román Ariznavarreta is a Spanish actor and stuntman who appeared in Spaghetti Westerns, including two by Sergio Leone. For the German Sesame Street co-production Sesamstrasse, he appeared in a series of five filmed inserts, the "Verkehrswestern" segments. Ariznavereta played Dollar Gang member Don, and as a running gag in each segment, would be caught munching on a snack from a paper bag. Shot in Spain in 1980, Ariznavarreta and the other Spanish-speaking actors were redubbed in German.
From the early sixties onward, Ariznavarreta played bit parts (often as henchmen) or did stunts for Western films shot in Spain, including Burt Kennedy's Return of the Seven and Land Raiders (with Telly Savalas). For Sergio Leone, he appeared in two of the "Dollars" trilogy, For a Few Dollars More (as a half-shaved gunman) and The Good, the Bad and the Ugly. Other film credits included the costume drama The Fifth Musketeer (with José Ferrer), the fantasy Hundra, the Italian TV movie Socrates, and Paul Naschy's Los cántabros.
As a stuntman, Ariznavarreta contributed to the Spaghetti Western cycle as well as the sword and sorcery films Conan the Destroyer and Flesh + Blood. Other credits included Hurricane (with Mia Farrow), Rustler's Rhapsody, The Jewel of the Nile (with Kathleen Turner and Danny DeVito), and the 1990 TV series Zorro. In 2013, Ariznavarreta appeared in a documentary on Spanish stuntmen, Mañana podría estar muerto .
External links