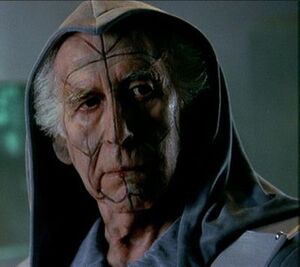 Ron Haddrick (1929-2020) was an Australian actor who played Yondalao in the miniseries Farscape: The Peacekeeper Wars.
Haddrick was an active cricketer as a teen, when he began also performing. He continued to play cricket, including in the professional Sheffield Shield tournament, in addition to acting on stage and radio. He was a regular on the variety series Radio Canteen beginning around 1949, appearing in dramatic sketches as well as comedy segments, in addition to acting in serials and radio plays. He left Radio Canteen in 1953 when he joined British actor Anthony Quayle's Stratford Company, going to England and performing Shakespeare. He initially played spear carrier roles (messengers, guards, and one of the murderers in MacBeth) and did the same for his television debut in the 1955 BBC version of Othello (as one of the "Soldiers, Citizens, Sailors, and Cypriots"). He worked his way up to Tybalt in Romeo and Juliet and Horatio in Hamlet and ended his stint with the company in 1959.
Haddrick returned to Australia, continuing on the stage. He also appeared on television, in Shakespeare (Taming of the Shrew, The Tempest) and as Dr. William Redfern on the serial The Outcasts (1961). He starred on the science-fiction series The Stranger (1964) as the title character, an extraterrestrial named Adam Suisse. He made episodic appearances on Homicide, Matlock Police, and Riptide. Later TV credits include episodes of Heartbreak High, Water Rats, All Saints, Nightmares & Dreamscapes (as the man in the elevator in "Crouch End"), and Rake.
Haddrick continued to make use of his voice, in radio serials, commercials, and in many animated specials and films from 1969 onward, including A Christmas Carol (as Scrooge), several Sherlock Holmes adaptations, Hanna-Barbera's Twenty-Thousand Leagues Under the Sea, The Count of Monte Cristo, and The Hunchback of Notre Dame (Frollo). He was heard in animator Yoram Gross's earliest Dot features and The Camel Boy. On-camera film credits include Quigley Down Under (with Tom Selleck), Short Changed, and Children of the Revolution (with Sam Neill and F. Murray Abraham).
External links
Community content is available under
CC-BY-SA
unless otherwise noted.