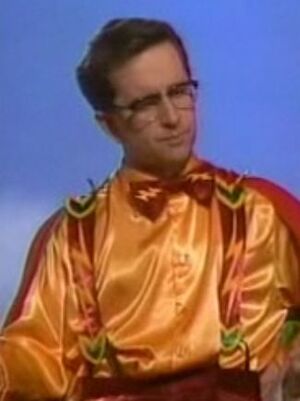 Ron James is a Canadian comedian and actor who appeared in The Jim Henson Hour episode "Food" as Sheldon, the All-Knowledgeable Grocery Store Stockboy (who shows a Muppet woman where eggplants come from).
James is a stand-up comic and was part of the Toronto Second City Troupe in the 1980s. As a result, he appeared on SCTV in seven episodes between 1982 and 1984, usually in small parts such as reporters or bits in movie spoofs. He starred on his own CBC sketch series, The Ron James Show, from 2009 until 2014.
James supplied character voices on the animated series Ewoks (as Mring-Mring the Gupin) and Robocop and appeared in episodes of Wings, F/X: The Series, Sisters, and Night Heat. Film credits include Strange Brew (with Rick Moranis and Dave Thomas), the TV movie The Undergrads (with Art Carney and Chris Makepeace), The Dream Team, Ernest Rides Again, and Tommy Boy.
Muppet Mentions
In his December 31, 2017 special Ron James: The High Road, James talked about the transition of baby pigeons on his porch to monstrous creatures: "It looked like something Jim Henson dreamed up in the midst of an ether jag."
External links
Community content is available under
CC-BY-SA
unless otherwise noted.