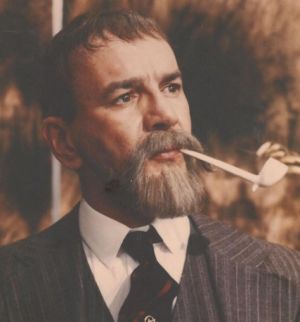 Ronald France (born Ronald France Archambeault, 1936-2011) was a Canadian actor and voice artist who dubbed Cookie Monster (Croque Croque Le Monstre) on Bonjour Sesame, the Québécois French dub of Sesame Street. He also voiced Grover on the tie-in album Sésame. For the Creature Shop-effects films Teenage Mutant Ninja Turtles and Teenage Mutant Ninja Turtles II: The Secret of the Ooze, France dubbed the Shredder, and he was also heard as the villainous Smoke in Cartoon All-Stars to the Rescue.
France acted on stage and television beginning in the 1950s. He starred on the children's series Bidule de Tamacadam (1966-1970) as delivery boy Bidule. France appeared often on the puppet series Nic et Pic (1972-1977) as various historical and fantasy characters and voiced puppet characters on Les Aventures de Virulysse (1982-1984).
France began dubbing in the 1960s, lending his voice to The Marvel Superheroes (as Captain America, the Mandarin, Odin, and others) and as the title role on Spider-Man. For Hanna-Barbera, he was Officer Dibble on Top Cat, the narrator on Ruff and Reddy, and Yogi Bear on Yogi's Gang. He dubbed Mr. Spock on the animated Star Trek and was heard on Garfield and Friends (the mailman), The Raccoons (Cyril Sneer), and Care Bears (Beastly). Disney roles include Fagin in Oliver & Company, Governor Ratcliffe in Pocahontas, Frollo in The Hunchback of Notre Dame, and Bob Hoskins as Eddie Valiant in Who Framed Roger Rabbit. He dubbed Patrick Stewart on Star Trek: The Next Generation and the Trek movies, Don Knotts on Three's Company, Harrison Ford in Blade Runner and others, Danny DeVito in Batman Returns, Charles Durning in The Hudsucker Proxy, and Alun Armstrong in Braveheart.
External links